Value-added Choices for Agencies & Clients
Only with Debit Card Network can you get the Life Freedom Prepaid Mastercard® program, which is focused on the needs of your representative payee or fiduciary agency and of your clients. Our expertise can decrease overhead by cutting down on postage, expensive check stock, and related staff time while giving your clients convenience in paying for personal expenses. Provide your clients with funds when they need it, as often as they need it, for personal spending, groceries, phone bills, transportation, furniture and other personal needs.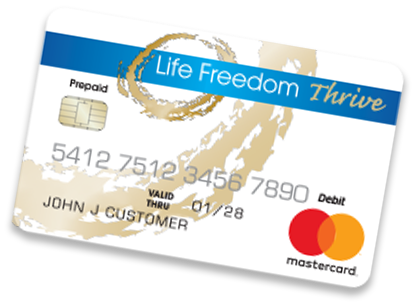 Thrive
Available now!
Allows card-not-present (phone and online) purchases
$200 per day limit for cash and $2,000 per day limit for purchases
Single-source deposit (your agency)
Includes surcharge-free networks (MoneyPass®*)
* MoneyPass is a registered trademark of Fiserv, Inc., or its affiliates.
Enrolling Your Agency
Call Debit Card Network at 1-866-983-3248 or fill out our Contact form to request an on-boarding package. Then, follow these steps.
Sign and return our service agreement
Get

your

personal

agency

liaison

assigned

Have these items ready

Accounting software – Most custom and off-the-shelf software programs accepted
ACH origination – Set this up at your bank

Finish with your liaison

Create an electronic deposit file
Instruct clients to apply for their cards
Fund cards

Done! Now Enjoy …

NO-COST unlimited access to our dedicated support staff
NO-COST training, including webinars and video calls, on client fund management and reporting
Custom reports created for managing client funds through the Agency Portal
NO-COST 24/7 cardholder support for your clients to check balance, review transactions and report lost or stolen card
How Our Program Helps Your Agency
We understand the challenges you face — Debit Card Network's leadership team has decades of experience working in the representative payee industry.
We can save your agency money — Our program can decrease overhead and can increase efficiency, putting more money on your bottom line.
We can enable you to give your clients greater independence, security and satisfaction.
We make tracking and reporting easy — Daily, weekly and monthly reports can help you monitor and report spending to Social Security and other benefit providers.
We provide unlimited support and training that may help you serve your clients more efficiently.
"I really like my card because it is so convenient and easy to use. "